Web design for Restaurants
High-end web design for Canadian Restaurants
In a world of bustling food scenes and online delivery services, restaurants need to establish a strong digital presence. Our expertise in custom restaurant website design will help your establishment shine online and transform website visitors into devoted customers.
Get a quote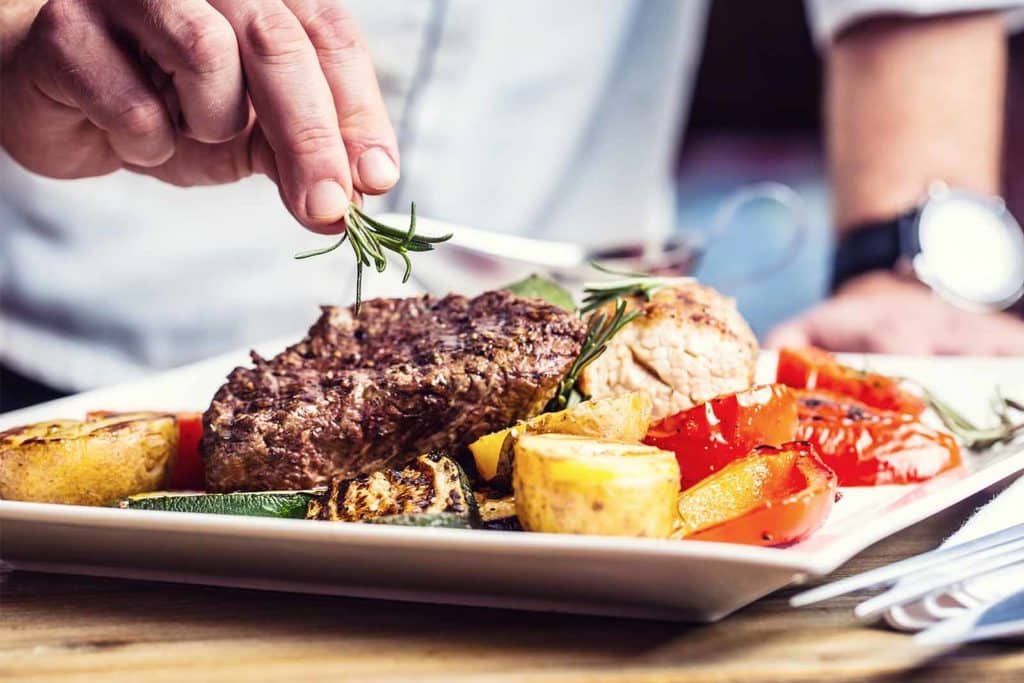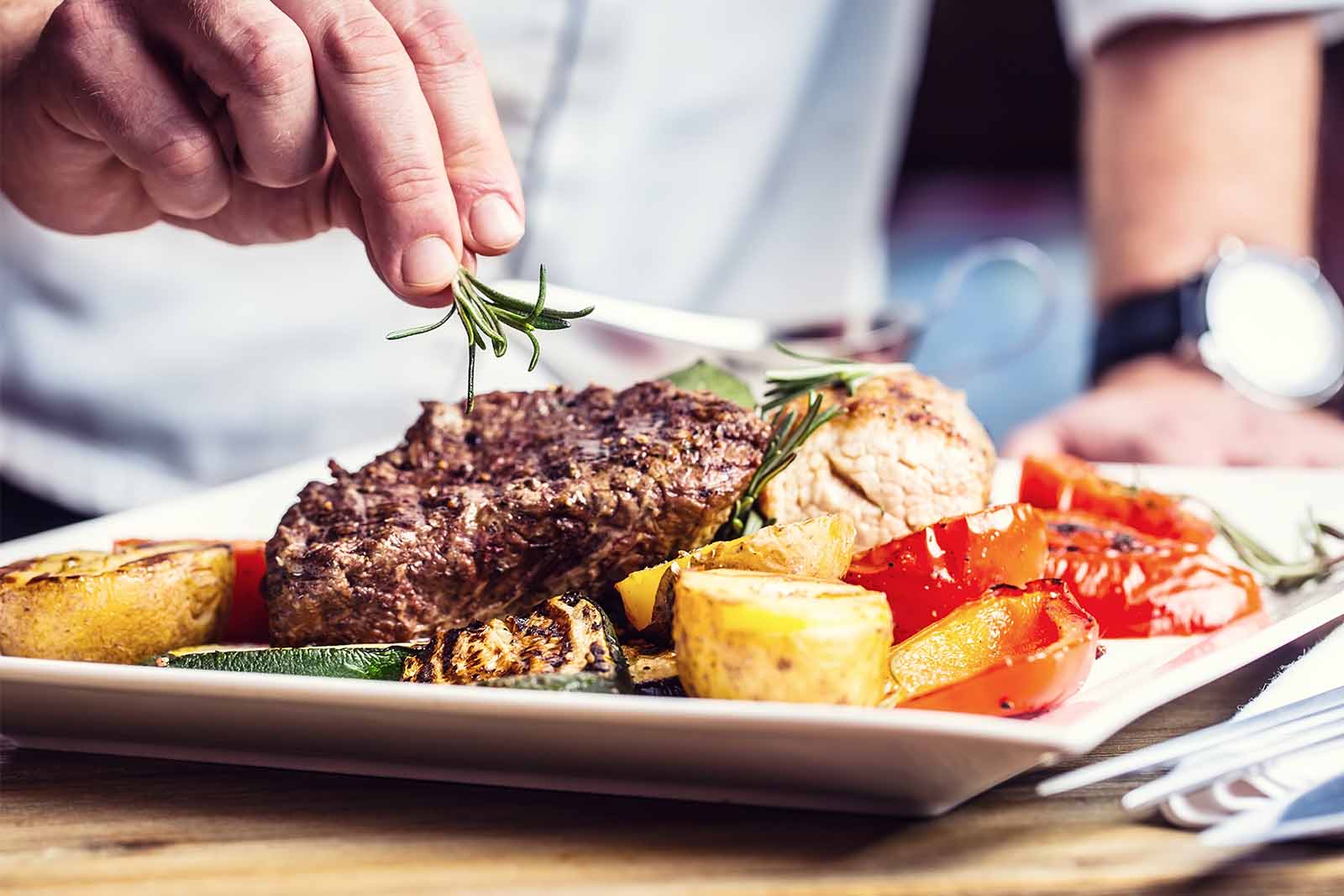 Our Services
What makes a powerful, modern website for a Canadian restaurant?
To create a compelling digital presence in restaurant website design, we employ our full suite of top-notch web design and development services.
Creating a compelling digital persona for a restaurant requires design services that inspire confidence and loyalty among customers. Our Saskatoon-based restaurant website designers bring over 15 years of experience in achieving just that.

For our restaurant clients, we design and build original websites that properly represent your restaurant and brand to the correct online audience. We display your complete menu and services in a current and appealing manner. Constructed with the most advanced technology, your new site will be a functional, adaptable, and dependable base for your online marketing, ready to grow and change with your restaurant's needs.

We create all our websites for restaurant clients using WordPress, an innovative open-source platform for website creation and content management. Utilizing WordPress enables us to leverage a plethora of powerful tools and systems, which help us in reducing costs and total development times, all without sacrificing quality, aesthetics, or performance. We shun templates or pre-existing designs; our completely custom front-end design and handcrafted WordPress backend installation allows for total customization and easy access for editing or publishing new or updated content.

We provide premium WordPress web hosting servers to our web design clients in the restaurant industry. This hosting solution applies highly optimized systems built to make our websites exceptionally fast and ultra-reliable. Using top-tier US & Canada-based cloud infrastructure providers, we provision our servers and manage all hosting-related tasks, including ongoing server/database upgrades.

We oversee the management and maintenance of your tailored WordPress website for restaurants. We offer on-demand content updates and ensure systems and software updates are done timely to keep WordPress and all essential plugins securely updated. We work rapidly: almost all regular restaurant-related site content updates can be covered in under an hour.

Our Becker Design websites for restaurants are created from the ground up to organically enhance your standing on search engine results for restaurant-related keywords, reducing the need for continuous off-site SEO work post-launch. We utilize a strategic backend structure, lightweight frontend assets, ultra-high-performance hosting, and custom, restaurant-specific, well-written, search-engine-friendly content to ensure your new restaurant site checks all the SEO boxes right from the beginning.
Our Journey So Far
Helping our clients cook up online success
Bryn Becker started a web design venture in Saskatoon in 2011, playing various roles from design to development, project management, and even accounting. In 2022, Bryn grew his team and rebranded to Becker Design and Media Group. Our web design experts have collaborated with various sized restaurants over the past 15 years, delivering victorious digital marketing and design solutions.
100k

Clicks

1.5M

Views

8%

CTR

3k

Bookings
Testimonials
Some kind words

from our amazing clients
I recently had the pleasure of working with Becker Design & Media to build a website for my local business, and I must say, they did an excellent job. From the initial consultation to the final launch, he was professional, responsive, and attentive to my needs. He listened carefully to my requirements and offered valuable suggestions to improve the site's…

Read Full Review

If you own a business and want your website to stand out from your competitors you should really give Becker Design & Media a try. Bryn really knows his stuff. As a business owner myself, I can tell Bryn is very passionate about his work and not just doing it for the money. * * * * * * *…

Read Full Review

Bryn was knowledgeable, timely and resourceful. His design was thoughtful and on brand. He was nimble and quick in responding to our schedule. His ongoing support has been essential, and his lighthearted professionalism made the project enjoyable. Highly recommend….

Read Full Review
Ready To Serve Up More?
Book Your Free Consultation Today
Discover more about our cutting-edge designs for Canadian restaurant websites. Once we grasp your specific objectives, we'll serve up a detailed proposal highlighting the website's features, specifications, and pricing.
What Makes a Restaurant Website Sizzle?
Superior Website Design for Restaurants and Food Services
The competition for customers is fierce in the restaurant business, and a strong online presence is essential. With the majority of people discovering new dining spots through local organic web searches, a fully optimized restaurant website design is crucial to your digital marketing strategy.
Our Saskatoon-based web design agency has been the go-to for restaurant website design in Canada since 2011. We've compiled a list of best practices for restaurant web design and branding, enabling us to craft unique websites that truly make a difference for our clients.
Not only do we focus on visibility in organic web searches, but we also ensure that your website engages visitors with a professional design and compelling content.
Our expertise encompasses both interface design and search engine optimization for restaurants. The journey of creating a restaurant website can seem overwhelming, but our web designers guide each client through the design and digital marketing processes, from discovery to implementation.
Upon project completion, we ensure you've acquired the knowledge to manage your new restaurant website and brand effectively, delivering improved marketing results.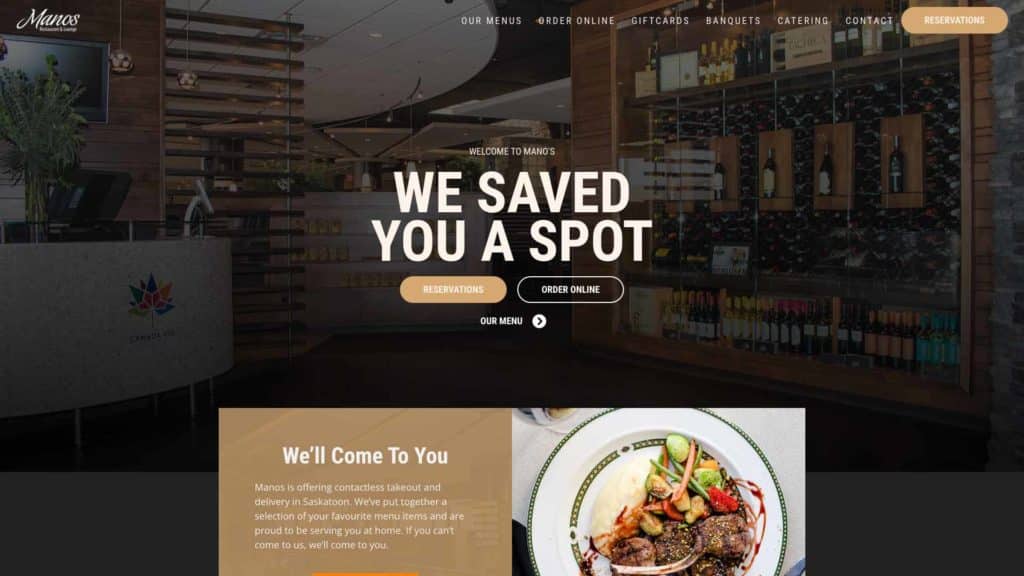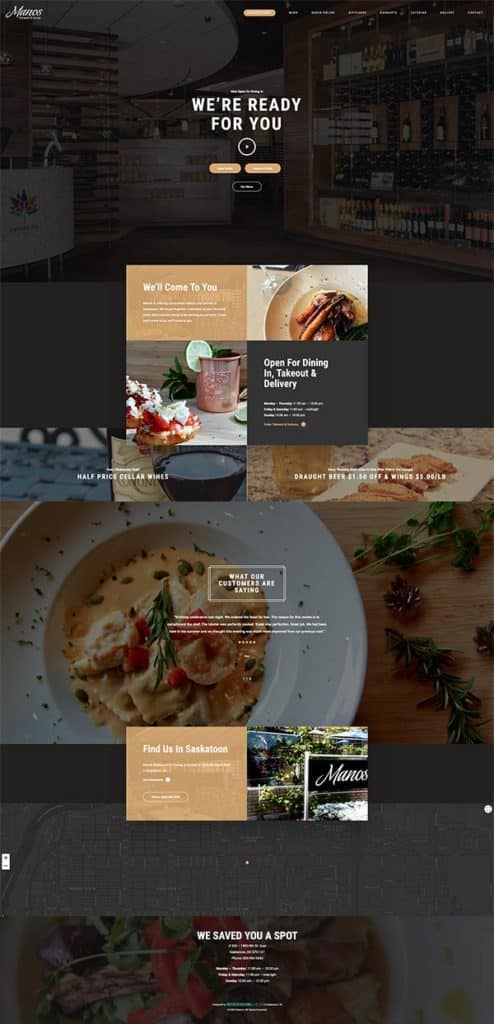 Featured Project
Mano's Restaurant
We refreshed this design in fall of 2022 to highlight Mano's brand new menus.
Mano's is one of Saskatoon's most loved and well established restaurants. Their website needed to reflect the same warm, comfortable, and inviting feeling that diners feel when they walk in the doors and are greeted by a host.
Mano's new website was a huge leap forward in style and technology. It was designed so that the thousands of visitors per month – on both desktop and mobile – can explore the restaurant's menu and book a reservation effortlessly.
The website is also designed to allow for simple integration with a third-party online ordering and take-out system.
View Project
A Taste of Our Strategy
Web Design Best Practices for Restaurants
Delving into our Saskatoon web designers' strategy for crafting world-class restaurant website designs:
Responsive Restaurant Websites
The majority of web traffic to restaurant websites comes from mobile search. Given this, a fully responsive website design optimized for mobile users is critical to the website's success as a key digital marketing tool.
Highlight Your Menu and Services
When users visit your restaurant website, they mainly seek to explore your menu and services. We promote your offerings while ensuring a fast and positive user experience on the website. These services should be prominently displayed on your homepage with direct links to more detailed content about each item.
Engaging Visuals
High-quality photos and videos of your dishes, location, and team are a must for any successful restaurant website. These visual elements draw in visitors and give them a taste of what to expect when they choose to dine with you.
Effective Calls-to-Action and Contact Methods
After optimizing your website for search, it's essential that your website design funnels users to the desired sections of your website. Offering clear calls-to-action that lead to direct contact information via email, web form, or phone is a must.
Design SEO-optimized Landing Pages
Each unique aspect of your restaurant offers an opportunity to cast a wide net for organic web searches and relevant keywords. For instance, if you provide catering services or private dining options, these should have SEO-optimized landing pages.
Featured Project
Vern's Pizza
Vern's Pizza, home of the famous Original Thick Pizza, needed a website that let their one of a kind pies speak for themselves.
This website is as heavy on the visuals as the client's pizzas are on the toppings, all while being designed for hungry customers to quickly and easily navigate to Vern's online ordering system and satisfy their cravings.
View Project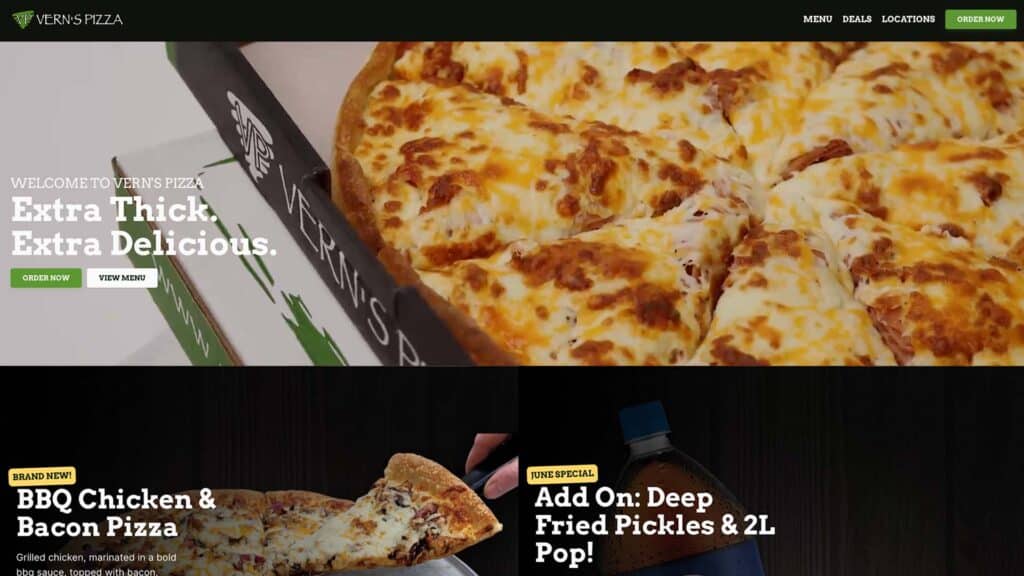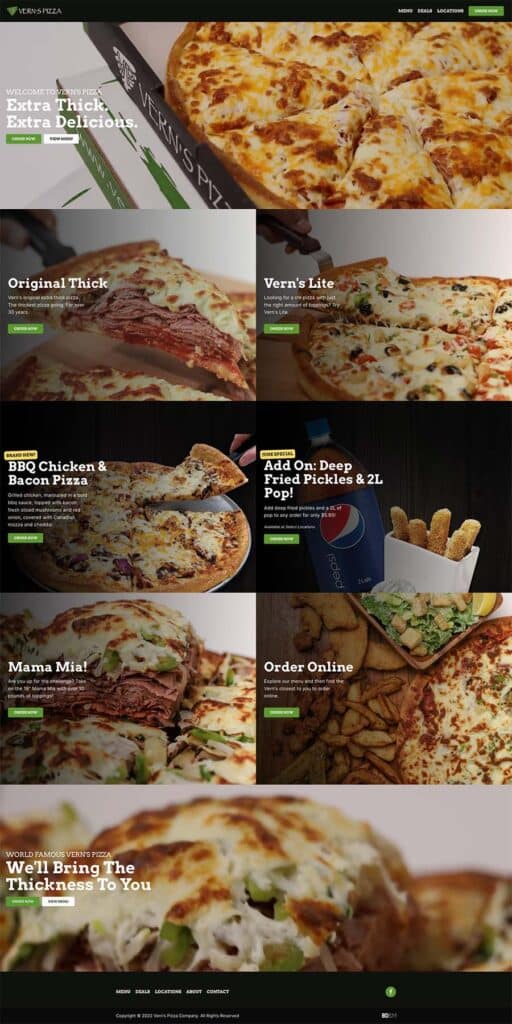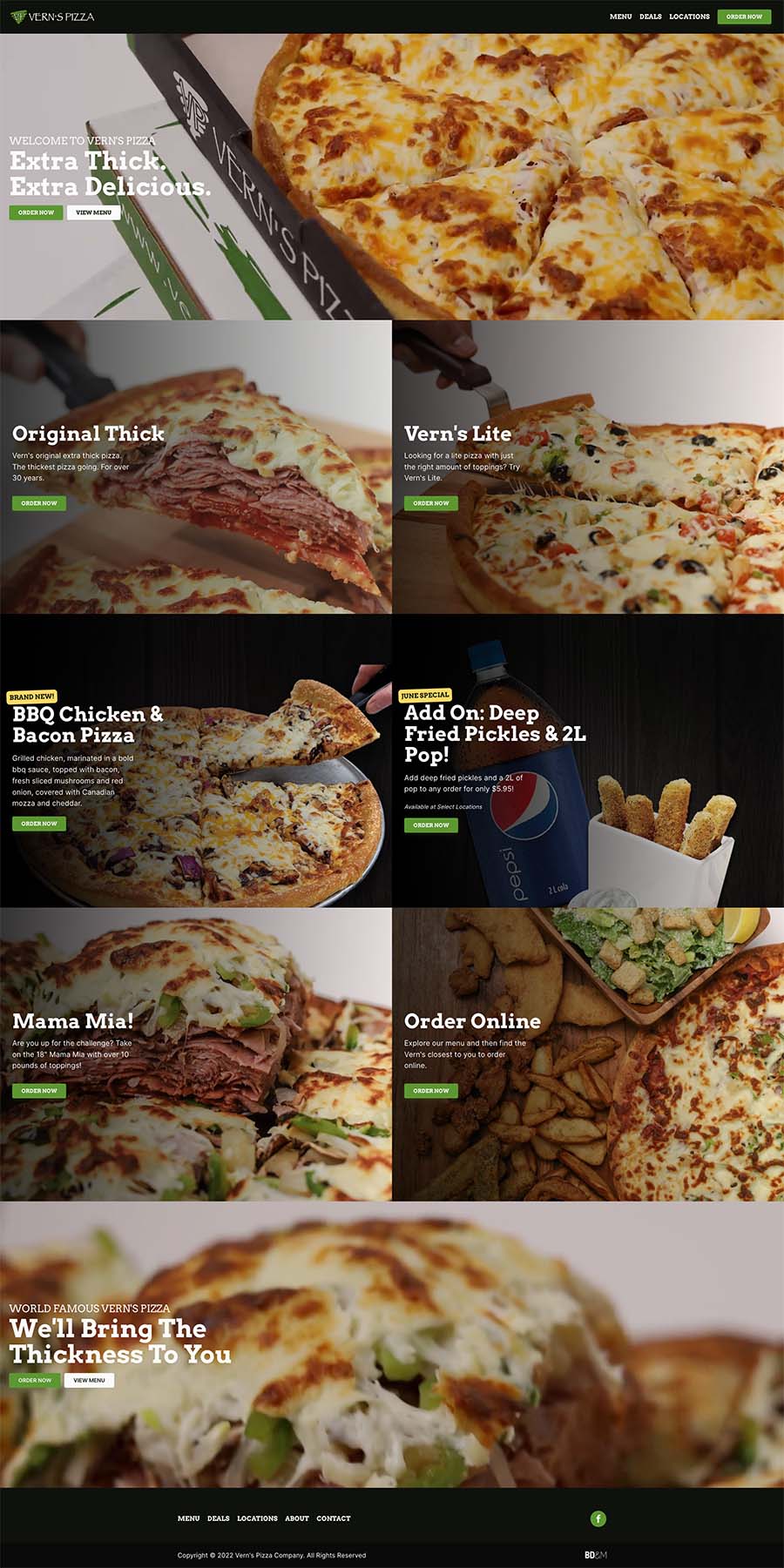 Recruitment
Restaurants often have a high turnover rate, and your website can be a valuable resource for hiring new staff. We suggest having a careers section where you can easily post job vacancies.
Leverage Testimonials
Well-placed testimonials can greatly enhance your restaurant's image. We found that using testimonials to support a specific dish or service is more effective in conveying the message to visitors.
Establish a Restaurant Blog
One of the best ways to engage with your audience is to establish a blog. Even with just a single post per month, your restaurant website can show value to potential customers, participate in promoting community events, and enhance your website's appeal to search engines.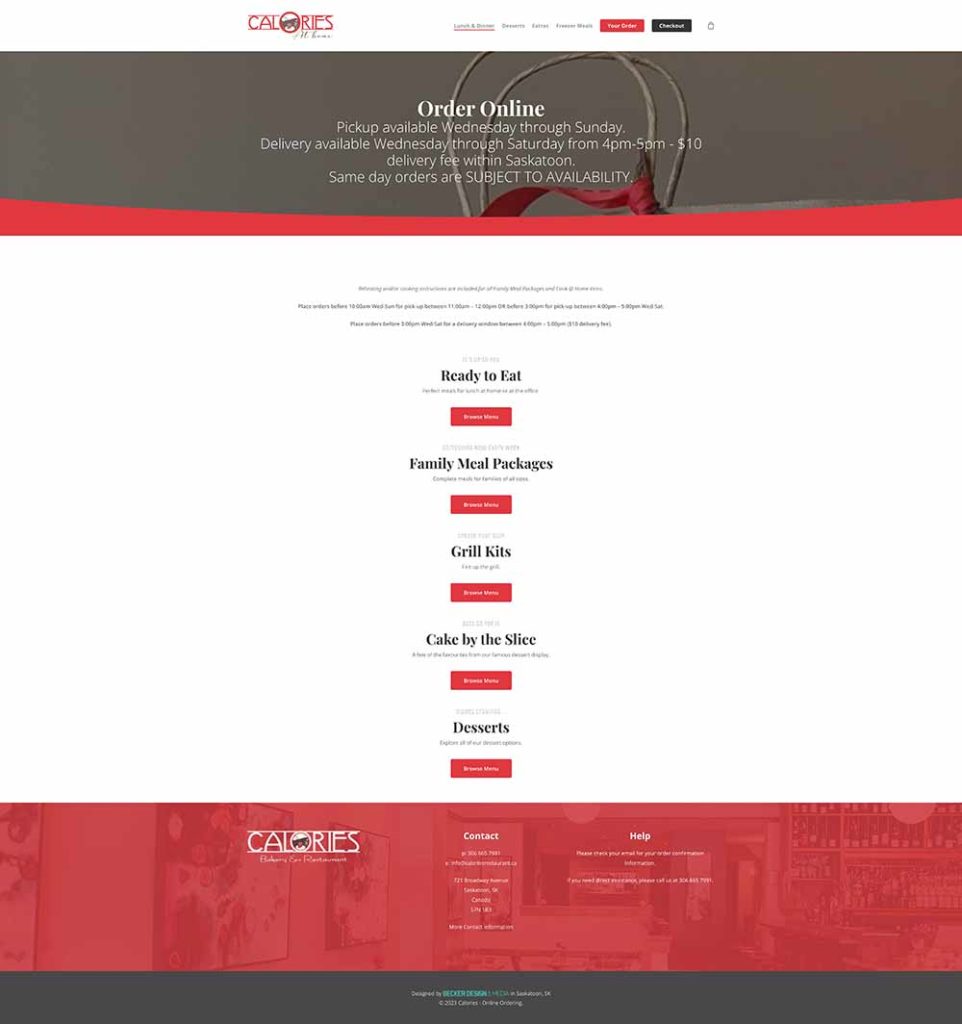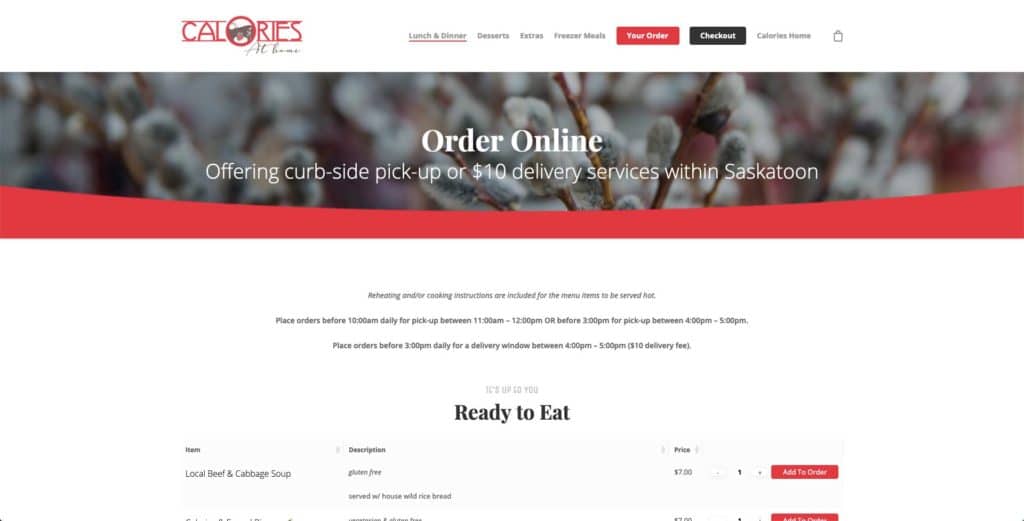 Featured Project
Calories Online Ordering
A comprehensive custom online ordering solution for Calories Restaurant in Saskatoon.
Built from the ground up using WooCommerce and a wide range of customized tools and plugins to allow for online ordering, order management, and custom delivery options.
View Project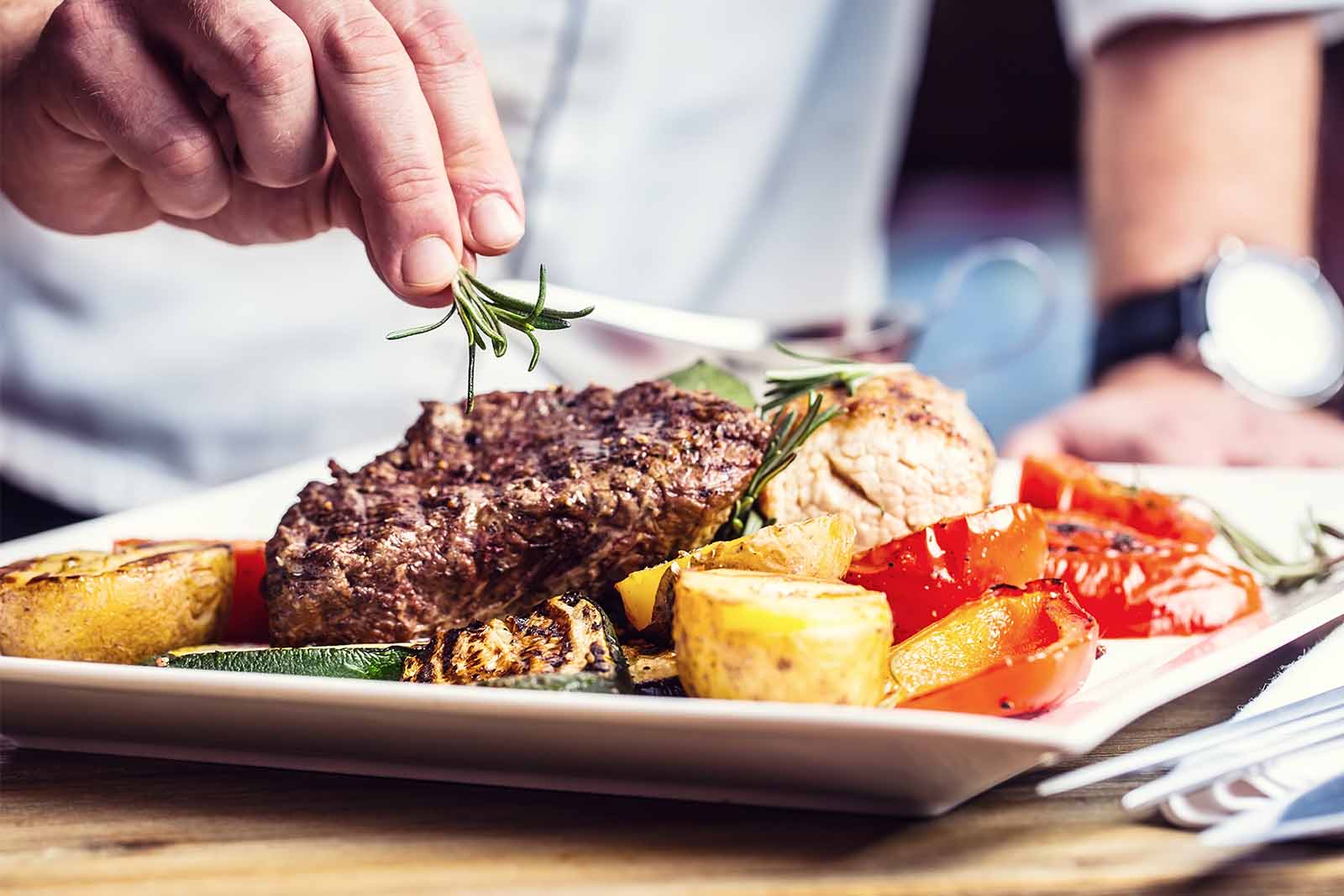 Ready to Heat Up Your Online Presence?
Ready to Take Your Restaurant's Website to the Next Level?
Designing a website for restaurants can be a complex task without the right experience. Our Saskatoon restaurant web design agency can assist you in planning and executing your next web design project."